They are our clients, they are part of our team, they are our ambassadors… This month on the Dermapure blog, we are highlighting moms, those superwomen who always take care of others first! And what if we took care of them, too?
In honor of Mother's Day, we wanted to introduce you to inspiring moms by opening the discussion with some of our collaborators!
To open this special issue, Dermapure interviewed the mom and blogger Pam Ratzlaff, and daughter Dylan Ratzlaff, actress and professional dancer, both patients at Dermapure Chilliwack.
Dermapure:  Pam, you are a busy blogger, a wife and mom of three! What does it look like a day in your life?  
Pam: When the kids were younger, I felt like I pretty much lived in my car driving them to school, dance and hockey.  Now that everyone has their driver's license, my days aren't quite as hectic.  And I actually do miss that time with them in the car.
A typical morning starts with coffee, toast and peanut butter and checking my emails and socials.  I then usually try to get a walk or Pilates in. Berkeley and Dylan are often around in the mornings and we talk about social media campaigns and YouTube videos they are working on.  They jokingly call me the "Momager", but to be honest, they just use me more for a sounding board, so I consider myself more of a "Momsultant".
Afternoons usually involve some Sugar Plum blog planning, volunteer work in Women's Ministry at our church, design planning for the hockey arena at Mac's school, laundry and dinner prep.
After dinner, I might take Bruno, our Frenchie, out for a walk, and then I usually take in an episode of whatever series I'm into on Netflix.
  On weekends, Jason and I try to get out on our bikes and ride for coffee!  Sunday afternoons are our brewery day where we check out new places in the valley.
Dermapure:  What is the best piece of advice you could offer to another mother on how to find personal balance? 
Pam: It's really tricky when you work from home. When the kids were small, I would try to book my meetings when Jason was home so he could look after the kids. Now with being able to work so much from our devices, I think it's really difficult to separate work and home life.  I think it's important to be intentional with "work hours" and keep time with the kids just that. I'm not saying it's easy…I used to do a lot of my online work late at night once the kids were in bed.  
It's also really important to take those breaks. I've been trying more and more not to work on Sundays…to keep that as a family and rest day…to try to even avoid doing laundry. It's tough as I don't like to leave something that needs to be done. But we were not made to work 7 days a week.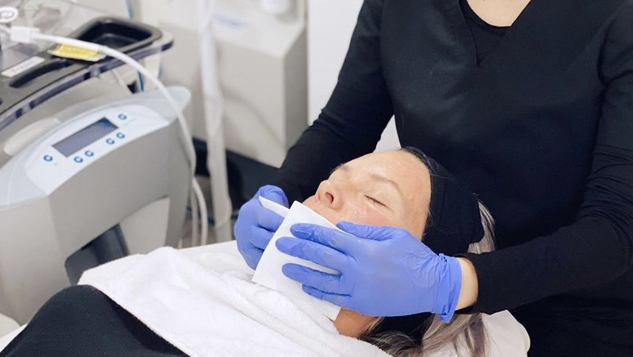 Dermapure: What is your favorite way to unwind and take care of yourself?
Pam: I love to go for walks!  My family actually makes fun of me because I'm kind of obsessed with getting my steps in.  On rainy days, I've been known to walk on the spot and watch Netflix.  Hey it works!  I love on nice days to go for a walk and grab a coffee!  Getting outside makes me feel so good and clears my mind.
Dermapure: What is your personal beauty routine?
Pam: In the morning I cleanse and moisturize.  I seriously can't start my day until I've done that.  Before bed, I use a makeup remover pad and then cleanse.  I moisturize and put on lip balm.  That's a must.  I can't sleep if I have dry lips.  I also might add some oil, serum or eye cream, depending on how tired I am!  And with all this hand sanitizer we are using, I have to moisturize my hands before bed.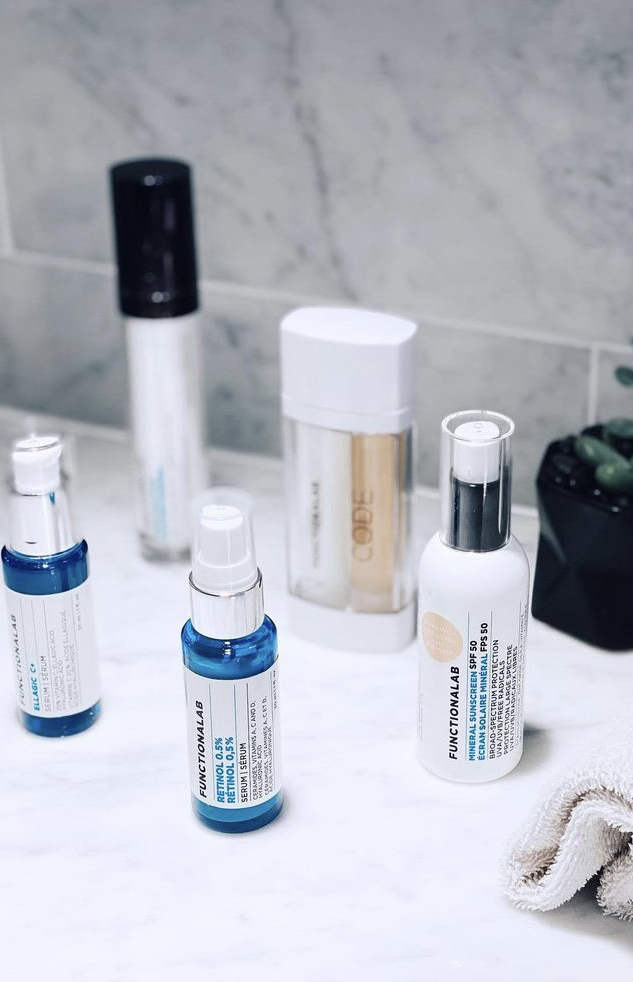 Dermapure:  Are there certain beauty gestures that you have tried to teach Dylan?
Pam: From a young age, I have encouraged her to wash her face before bed.  It's important to me to go to bed with a cleansed face.  I think that if you start doing this when you are young, you will do it the rest of your life…it will just become a good habit.
Dermapure: What is something Dylan does that inspires you? What is the biggest lesson that your daughter has taught you?
Pam: Dylan has taught me a lot of things.  I admire her determination, her work ethic and her discipline.  One of the biggest things that she has taught me is to celebrate successes.  I think I can get so focused on accomplishing the goal, that I forget to celebrate it once it's accomplished. Celebrating can mean something as simple as getting your favorite coffee or picking up an ice cream cake (like we did when the girls hit 10 million views on Tik Tok).  It doesn't have to be a big deal, but just something fun!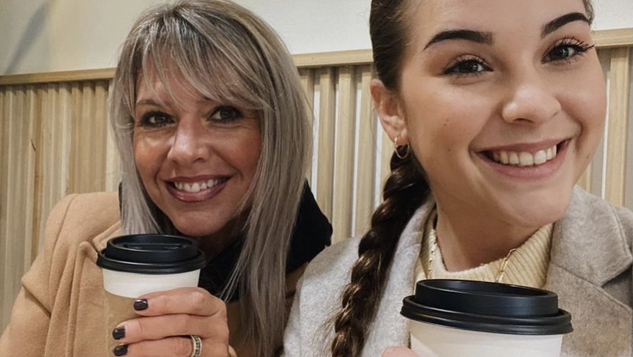 Dermapure: Dylan, you made your first public appearances at a very young age. With a lot of makeup on shoots, did you start taking care of your skin early on? 
Dylan: I was always super blessed with clear skin when I was younger, but more recently I have had struggles. I did a dance tour that required me to put on a lot of makeup everyday for two months and that was the breaking point for me. I really developed both a morning and night time routine for my skin. 
I made my first public appearance at 15 and definitely became much more aware of my skin. It took me a while to find a brand I like but ultimately I realized my skin's need changed depending on life circumstances (ex. stress), amount of travel, how much sleep I was getting and what season it was. After five years I finally feel like I have those go-to products.
Dermapure: What are the beauty habits you apply daily to keep your complexion as radiant and luminous as possible?
Dylan: One of the biggest habits of mine is to put a good quality sunscreen on everyday. 
Another big ingredient I live by is Hyaluronic Acid! I find this always leaves my face so moisturized and almost lifted in a sense. There isn't a day that goes by that I don't use this ingredient. 
To discover:

› Functionalab Ellagic C+ Serum  
Dermapure: Is there a beauty tip your mother has taught you that you would like to share with us?
Dylan: I have been a dancer since I was three which required stage makeup for competitions. My mom did not shy away from this daunting task of putting fake eyelashes on me when I was younger. No matter how long it took, she would always do my makeup before a competition. I would slowly take responsibility and start to do certain parts of my makeup, but ultimately all my makeup skills come from my mom. She taught me how to apply eyeshadow, blush, contour, eyelashes, eyeliner …. It goes on and on.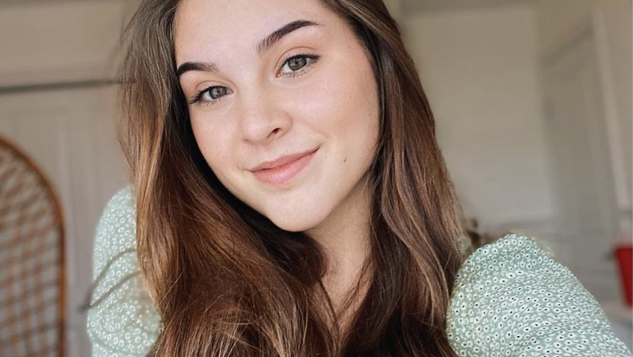 Dermapure: What is something your mother does that inspires you? What is the biggest lesson that your mother has taught you?
Dylan: My mom and I are very similar and always have been. I like to think that I figure a lot out on my own but that really isn't the case at all. Since we are so similar, I always soaked up everything she did and applied it to my life.  I have always been so inspired by her work ethic and ability to just make things happen. She would always be the first parent to volunteer to host an event and she would always go above and beyond to make it special. I remember for my grade 5 graduation; we held the event at our farm and she rented a rock climbing wall!! It couldn't get much better than that. This has taught me when I do something to do it well. Whether that is in my dancing, a job or my skin care, because of her I always do something 110%. 
---
Follow them on social media:  
Pam's Instagram: https://www.instagram.com/sugarplumpam/
Read the Sugar Plum Sisters blog: https://sugarplumsisters.com/
Dylan's Instagram: https://www.instagram.com/dylan.ratzlaff/