Our team of experts is composed of over 40 physicians all across Canada. They all share a common mission: to help patient feel and look beautiful, but most importantly educate them on how to take care of their skin. After all, it's the biggest organ of our body! Together, they share an impressive amount of knowledge, and we had the pleasure of grasping a piece of it during our most recent Instagram Live interview with one of our Dermatologists, medical director of the Dermapure Vancouver clinic, Dr. Frances Jang.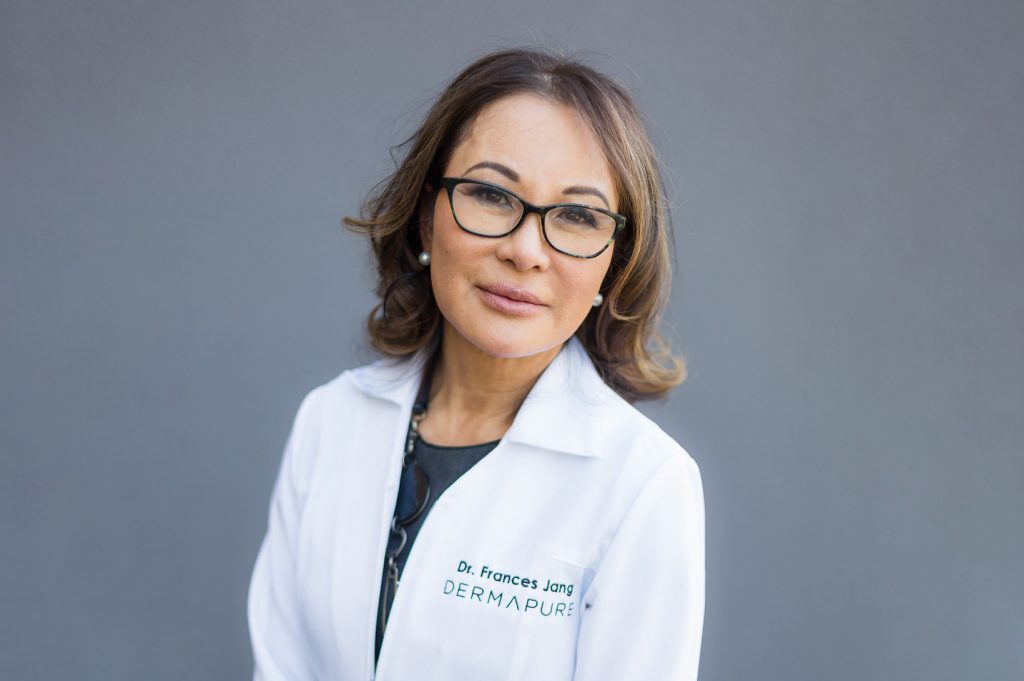 Marilyne : Hi Dr. Jang. Welcome and thank you for going live with me today! We're all very happy about the weather getting nicer and the sun being warmer and brighter. But, as many of us may know, we need to protect our skin. And not only during the summer, all year long too ! As a Dermatologist and skin expert, can you explain what are the short-term and long-term effects the sun has on our skin ?
Dr. Jang : On the short term, it is really all about these visible signs such as sun burns and redness, which almost everyone has experienced at least once. But it's really the long-term deteriorating damage that we are worried about as dermatologists. These effects are due to the accumulated sun exposure in our lifetime and include loss of elasticity and collagen in the skin, which we call solar elastosis, and also the appearance of redness and brown spots of many different types. Other than the fact that they can be unattractive, from a dermatologist's point of view they are concerning because they could be pre-cancerous spots.
Marilyne : In your practice, how often do you see patients with these type of skin concerns ?
Dr. Jang : Uhm, I'd say pretty much everybody ! Normally the demographic is slightly older but also younger now, and it's so critical for everybody to be on skincare from a young age to protect their skin and prevent these spots from appearing. In my beauty practice at Dermapure, I do not see patients specifically to treat skin cancer but we do treat a great amount of patients for damages the sun has done to their skin such as fine lines, wrinkles, redness and dark spots. And it's not only women, we see men very often that are concerned about these skin conditions.
Marilyne : What products can patients use to protect their skin ?
Dr. Jang : We really have to go back to the basics of dermatology, and that's using sunscreen each and every day. I realize that many people are confused when it comes to the use of sunscreen because the panoply of options on the market. The two main categories would be chemical and mineral sunscreens. Chemical sunscreen scares many people because of the conversation that has been going around the effects the chemicals can have on our health. It has not yet been proven to be true, but you may want to look for a chemical sunscreen without oxybenzone, which is the ingredient of concern for many. On the other hand, mineral sunscreens are great and very safe, along with being effective right away because they reflect the rays of the sun. The only negative aspect of it I find is that you need to apply more, and it's not quite invisible. But manufacturers have been very good about adding quality pigments in it to make very nice, tinted sunscreens. Finally, I have to mention that I tell all my patients to apply sunscreen every day, even on cloudy days, from March to September and any time you go outside during the winter, skiing would be a great example !
Marilyne : Are there any products or treatments they can use that can help reduce or reverse existing sun damage ?
Dr. Jang : What I love about being a Dermatologist and working with Dermapure is that we have a variety of treatments to offer, and there is no "one size fits all". We can really personalize the treatments and that depends on different factors such as the time and money the patient is willing to invest, the downtime they are willing to experience, how much they want to clear off, etc.
Interestingly enough, 20 years ago we only had 2 main solutions with were chemicals to peel and renew the skin or lasers to get rid of all the sun damage. The problem with that is that there was very long downtime and side effects, and many things could go wrong during the healing process. There now has been many revolutions with lasers and the treatments are now a lot safer, predictable with less down time.
I would say one of the newest treatments I am very excited about is the mix of microneedling with radiofrequency, that resurfaces the skin and gives a very nice tightening and firming effect, with almost no downtime. It therefore corrects multiple effects of sun damage like spots, loss of firmness and fine lines and wrinkles. We can also treat the neck and décolleté with this treatment !
As far as products are concerned, I strongly recommend the use of these 3 essentials :
1. Sunscreen
2. Antioxidants (Vitamin C)
3. Retinol
These would be the three pillars of skincare, when used correctly, in the right amount and with high-quality products of course.
Marilyne : To wrap up our live with some concrete steps and actions for our listeners, what would be your top 3 recommendations or best practices for healthy skin ?
Dr. Jang: I would say to try to avoid sun, sitting in the shade instead of blasting our skin in the sun. Also, changing our clothes in the summer when we know we will be exposed to sun for quite some time, covering up our shoulders, décolleté and arms as much as possible. And finally, of course, is the daily application of sunscreen !
---
Follow us on social media to watch our next live:
Dermapure on Instagram: @dermapureclinics